Do you remember MASH, the game you used to play in grade school to predict your future? We've created the adult version to help you find out the type of home that may be right for you. Grab a pen, think of a number, and start playing!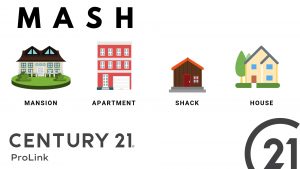 How would you describe your style?
Eclectic
Modern
Traditional
Chic
How do you feel about work?
I'd rather be traveling the world.
It's fine, but I prefer nightlife.
It teaches responsibility.
It's great, if you make a lot of money.
Which home exterior do you prefer?
Blue paint
Red brick
White siding
Tan stone
Where would you like to live?
On a beach
In a city
In the suburbs
An exclusive development
Which is your ideal vacation?
A beachside retreat in the Caribbean
A night out on the town in a bustling city
A family-friendly trip to an amusement park
An extravagant European tour
Now add up your scores! (Answer 1 = 1 point, Answer 2 = 2 points, etc.)
If you scored…
5 – 8  = You should live in a bungalow!
The perfect home for you may be a beachside bungalow! You love to travel the world and spend most of your time on a beach. Your home is filled with treasured items you've picked up over the years. Who cares about matching? Everything you own reflects a memory, a piece of you, or a part of the world.
9 – 12 = You should live in an apartment!
You're a natural urban dweller, and we couldn't take that away from you! You may have been born for the bright lights of the big city, and you don't care if that means living in a smaller space. You're willing to sacrifice square footage for experiences in a metropolis, so you've developed a minimalist style to decorate your abode. You aren't too attached to your items, but instead, are attached to your city.
13 – 16 = You should live in a house!
You may love peace and quiet, and what better place for that than the suburbs or the country? Family comes first for you, which is echoed in your design style. You care about practicality first, and you understand the difference between "needs" and "wants." But that doesn't mean that you don't have sentimental attachment to items. You proudly decorate your home with artwork and items made by family members.
17 – 20 = You should live in a mansion!
You favor a big, pristinely decorated space, so a mansion may be right for you. You love extravagant items, like a large mirror or brightly-colored furniture. And everything you own matches, which means you have a home that your friends fawn over constantly.
For entertainment purposes only.