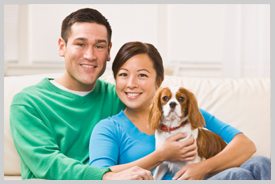 Your family pet is just that…family.
Moving is stressful for everyone involved including your pets.  Adding to the stress is temporary housing and the sometimes cold climate that comes from the Landlord when you tell them you need a three bedroom, two bath apartment and that you have a dog or cat.
Many Landlords have had bad experiences in the past with an irresponsible pet owner who has allowed the pet to damage the property. This has made it difficult for those in need of a rental, who care and love their pets in a responsible manner.
Here are a few tips if you are in search of a rental or temporary housing:
Prepare a Pet Resume.
(This can be extremely helpful when asking a Landlord to consider your pet housing needs)
Include a photo.
State any training your pet has had.
Include Vet references.
Health record and vaccination records and schedule.
Offer References from any past Landlords or neighbors.
Write a letter to the Landlord about the relationship you have with your pet.
(Include your pets temperament and habits)