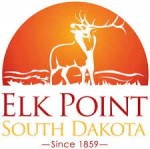 History notes that the Lewis & Clark Expedition made camp in or near Elk Point on August 22, 1804 . Elk Point was first settled in 1859 along the Military Road running from Sioux City to Fort Randall in the Dakota Frontier, making this community one of the oldest in South Dakota .   
The recorded history of Elk Point dates back to the Lewis & Clark Expedition of 1804. Captain William Clark recorded in his journal a "Great deel of Elk Sign" at this campsite along the Missouri River. In spite of that significant journal entry, no one today can pinpoint the origin of the name Elk Point. Depending on the historian, Elk Point was named by the Native Americans who hunted in this area, or it was named by the French fur trappers who preceded Lewis  & Clark's Corps of Discovery, or it was named by Captain Clark himself, or by Eli Wixson, who had come from Sioux City, IA, to build the first cabin in 1859 and become Elk Point's first citizen. Whatever the origin, this community was officially incorporated as Elk Point on January 10, 1873.
Elk Point's attractive business climate derives in part from a favorable local tax regime and the fact that South Dakota has no State income tax.  In addition, ample water, sewer, electricity and garbage disposal services are supplied by the City at reasonable rates.  State funding, as well as City tax abatements, may be available for qualifying projects.  Information on utility rates, tax abatements, and State funding may be obtained through the Elk Point Development Corporation.  Labor is available at all educational and skills levels at wages which are average fro the immediate area, but less than those of the U.S. and the region generally.  Local governments, professionals, and financial and other private institutions, including the Development Corporation, are organized and equipped to assist and support new and existing businesses.