The Iowa Association of Realtors® (IAR) reports that sales were up in December. According to IAR's 2013 December Housing Trends Report, the number of home sales increased by 3.2 percent, as 81 more homes sold last month than in December of 2012. The report shows that 2,647 homes sold/closed in December 2013, while 2,566 homes sold/closed in December 2012.

Home prices also continued to rise.  In December of 2012, the average sale price was $148,603, while this December it is $149,150; an increase of 0.4 percent. The median sales price reflected the average price at an increase of 0.4 percent.  In December of last year, the median was 124,500 and this year showed a slight increase at $124,950.  Also encouraging for sellers across the state, is that the average Sales Price to List Price (SP/LP) comparison continues to improve; up 0.4 percent in the past year, and up 1.6 percent in the past two years when comparing December from each respective year.

The average Days on the Market (DOM) for December of 2013 were 83, down by 14.4 percent from last December's 97 DOM. When considering the decrease in inventory, there is a positive correlation between that number and the decrease in DOM.  "While there are fewer properties on the market, buyers are making faster decisions and sellers have been eager to sell, which is a great thing for Iowa's housing economy," says Kathy Miller, 2014 IAR President.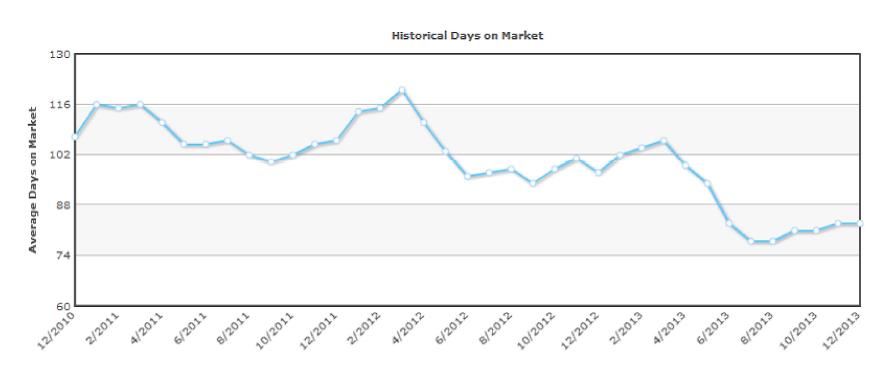 The positive news is being experienced around the state, with more than half of Iowa's 44 local boards showing increases in both sales activity and decreases in DOM.
The IAR releases a Housing Trends Report each month. Data is collected from local Realtor® boards through their multiple listing service (MLS), which tracks sales activities in the board area. The IAR compiles all of the local board data into the statewide report each month. The information used to create the IAR November 2013 Housing Trends Report was current as of January 14 at 8:42 p.m. The information is subject to change due to the dynamic nature of the IAR's housing statistics system, which is updated hourly based on information present in local participating MLS systems. Contact your local board of Realtors® for more specific local data. Reports are available online to IAR members and affiliates with a login and password. Anyone is eligible to become an IAR affiliate. For membership information, visit www.iowarealtors.com.
CONTACT: Amy Lucht, Communications Coordinator, Iowa Association of Realtors®, amyl@iowarealtors.com