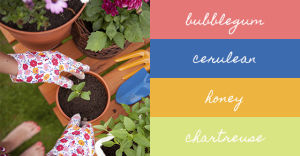 Use this bold and vibrant color palette to decorate your home!
What: This palette is inspired by one of our favorite springtime pastimes, gardening.
Where: Let your garden inspire your outdoor decor! Section off your deck or patio with a large area rug in honey to provide a contrast to your wood furniture. Paint a piece of furniture chartreuse to create a fun and bold pop of color. Combine patterned and solid pillows with shades of honey and cerulean. We recommend displaying potted plants in similar shades such as: hydrangeas, daffodils, peonies, and snowball bushes.
Why: Nature makes people feel calm and regenerized.
How: If you like vibrant colors, try cushions in bubblegum and chartreuse. To tone it down, keep the accent pieces simple and elegant in shades of cerulean. For a monochromatic look, play with different shades of one of the colors with minimal accents in the remaining colors.
Would you paint your home with this palette? What colors in your garden inspire your decor?