A family-owned business and industry-leading expert, Trinity Electrical Services prides themselves on providing high quality, cost-effective solutions for all their customers' electrical needs, as well as demonstrating an unsurpassed approach to customer service.  Gregg and Krissy Lamoreux established Trinity Electrical Services in 2012 to bridge a gap in the Siouxland Community, which at the time was lacking a resource for local, reliable, and skilled electrical technicians who could follow through on service commitments consistently.
Gregg Lamoreux, licensed as a master electrician in Iowa, Nebraska, and South Dakota, always had the goal and desire to open his own business so that he could diversify his portfolio from supplying and servicing not only industrial, but commercial and residential clientele, as well.  It's impressive and admirable that Trinity Electrical Services, now the second largest electrical provider in Siouxland, was started just three and a half years ago by Gregg, his trusty van, and his vison.  Gregg and Krissy believe one of their biggest success factors is their dedication to their customers.  No customer or job, big or small, is more important than the next.  All invoices are itemized and completely transparent, so there is no mystery in what their customers are paying for.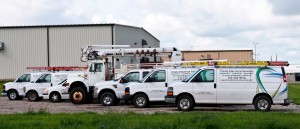 Trinity Electrical Services moved from Sioux City, Iowa, to North Sioux City, South Dakota, in Marchof 2014 when their plans for expansion came to fruition.  Today, 45 team members strong, they're looking at future expansion as their need for space continues to grow.  Both on site daily, Gregg maintains an active role in the daily operations, and Krissy wears many critical hats including accounts payable and receivable, marketing, and management.  Additionally, they have very positive things to say about their talented technicians and support staff.  Greg and Krissy describe their employees as being "amazing, trustworthy, and dedicated".  At Trinity Electrical Services, it's teamwork at its best, and they're "Keeping The Lights On"!
Written by Commercial Agent:  Sarah Espiritu
712-635-1675
http://www.sarahespiritu.com/
Sarah@C21ProLink.com