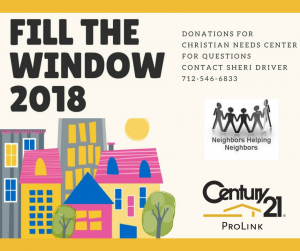 After last year's Fill the Window success, we are thrilled to kick off our 2018 Neighbors Helping Neighbors donation drive by Filling the Window for the christian Needs Center again this year! They are asking for canned vegetables, canned fruit, grape/strawberry jelly, personal hygiene products, cleaning products, Hamburger Helper and other non-perishable meals.  We will be accepting donations from now until March 15th at our Le Mars office located at 41 Central Ave NW, Le Mars IA. For questions give us a call at 712-546-6833.
As the tagline says, CENTURY 21 ProLink is connected to our community.  Not only do the agents serve on many boards and committees, we now are partnering with several organizations throughout the upcoming year.  We "spot light" an organization, take a tour of 
their operations and work hand in hand to rally community support for the organization.  Our Neighbors Helping Neighbors SPOTLIGHT project is assisting families who need some extra help with their yard.  We are reaching out to community agencies to find families in need of assistance.
If you know of an organization in need, please feel free to email us at Info@C21ProLink.com.  Please provide the name of the organization, contact person, and telephone number.  We will then add them to our request list and they will be considered for one our future Neighbors Helping Neighbors campaign.
Thank you in advance for being part of Neighbors Helping Neighbors.